Work with us
Unfold your talents in a professional and inspiring team
We understand, we deliver
Since the foundation in 2017, Klikkmánia's mission is to make our professional vision come true, and create value to our local and international clients by offering world-class performance marketing services (SEO, PPC, online marketing consultancy). This happens with colleagues who are driven by continuous professional development, the adaptation of the latest digital trends and group brainstorm sessions in a professional team. If you feel these are values you identify with, join our team.
An office you will love coming to
Our spacious office is located on Andrássy Road, in the very heart of the city, on the top floor of a typical downtown residential building. At ours, you can always feel the vibe of the profession and the buzz of the city. There is no boring moment, something is always on, either by the darts or in the dining room. You may have to queue to get your dose of coffee but this is when the best stories come up.
A community that is great to belong to
We know that excellent work requires a milieu that is inspiring, both professionally and individually. For us, it is important that you make the most out of this atmosphere day by day once you join us. At our Account, Sales, SEO and PPT departments, we work with professionals with 70+ years of cumulative experience. We have worked really hard to get to this level of professionalism, and are eager to share our knowledge with you. What's more, we can't wait to learn from you.
Want to work with us? This is what you can expect!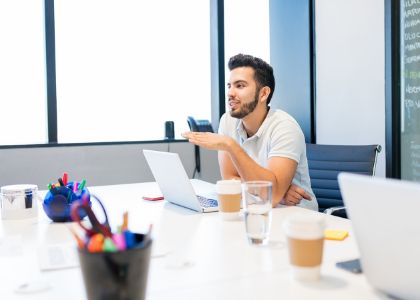 We are a Loveable Workplace
It is a great honour to us that in 2018 and 2019 we received the Loveable Workplace Award. This award takes work environment, the team, development opportunities, the quality of work-life balance into account, therefore it offers a holistic view on how our colleagues feel. We hope you will have the chance to experience it for yourself.
Guaranteed Home Office Two Day a Month
We love going to the office. The open office layout is truly inspiring, however, there are some days when it is more convenient to work from home. This is why we enable you to work from home 2 days each month.
We work with the best tools possible
Effient work is not only supported by professional and personal support; we make sure you have the high quality and reliable tools you need to do your job. Our office is well-equipped, we offer a superb array of devices. If you work with us, you will be using Apple products. We think you will like it.
Work with us!
If you want to work with us, you can expect the following steps to take place before you get your personalized Klikkmánia mug. We hope to welcome you as the next team member soon.
1. Interview
Once we found the "common denominator" in your CV, you will be invited into the office. This will give you a better overview on how Klikkmánia as an organization is set up, how it works, and you can meet the team.
2. Test
Expect a test project that will be sent to you via email. Once it is submitted, we will evaluate it based on professional criteria. If we like what we see, we would like to meet you again.
3. Feedback
Based on the interview and the test project, we can have a clearer understanding on you, how you think and what professional experiences you have. Fair play is key, therefore you can expect a detailed feedback.
4. Döntés
And now we look ahead: the last step of the selection process is letting you know what we have decided. We hope you will join us soon and become a team member.
This is how our team building looks like
Apply to our Internship Programme!
Do you feel you would like to be part of our team but, due to the lack of marketing experiences, you do not yet see where you would fit in the Klikkmánia grid? Should you wish to learn the basics in a professional and supportive community, send your application to karrier@klikkmania.hu, there will soon be some new opportunities for dedicated career entrants.
Apply